Bank and Credit Card Donations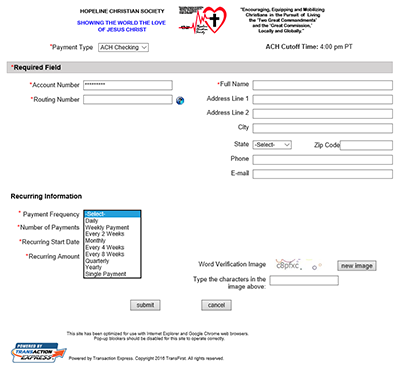 Hopeline Christian Society (HCS) is a 501 (c)(3) USA Charity wants everyone to be able to participate in our program to help others no matter what their income or life situation is and not take from others they are giving to. Therefore we suggest $10/person or $20/family, however anything is appreciated. HCS has no paid employees so our administration costs are under 5%. Presently 100% of your donation goes directly to helping those in poverty around the world.
Hopeline Christian Society receives checks at Box 1046 Newport, WA 99156, Credit Cards (Visa®, MasterCard®, American Express®, Discover®), Bank Savings and Checking Accounts (ACH on donation page) and PayPal on the appropiate buttons.
For credit cards and bank accounts click on one of the 2 "Donate Now" heart buttons. We will use Recurring Donation Savings Account as the example to explain the simple process (One-Time is the same except for Recurring Information. Credit Card same as normal).
After selecting how you want to give by selecting ACH Checking (Checking or Savings Bank Account). Put in your Bank Account Number and Routing Number
In the Recurring Information area select Payment Frequency and choose how often you want to withdraw from your donation. If you choose monthly. In the "Number of Payments" put "0" for ongoing indefinitely or "12" for a year, "24" for 2 years (after the period is over you will have to remember to do it again when the number of payments are finished). No matter how many payments (donations) you make you can contact us at info@hopeline.org to immediately stop your donations.
Choose your start Date, Monthly Amount and Full Name (required) then we will begin providing ongoing support services to helping 3rd world Christian missionary. If at anytime we need to contact you it would be good to put in your phone number, email (required if you want a charitable tax receipt for the year, sent within 2 weeks of year end). HCS will only send updates 2 times a year and never solicit you to give more. You can also follow us on Facebook Page or our Missionary Facebook Page.
Hopeline Christian Society Federal Charitable Number #46-3228497
Image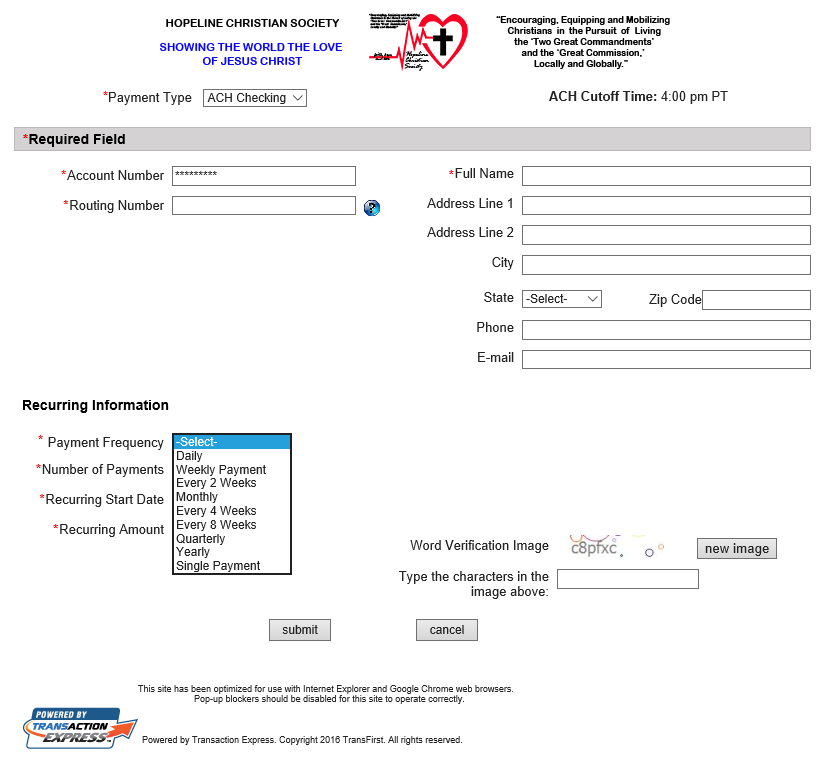 …as His divine power has given to us all things that pertain to life and godliness,
through the knowledge of Him who called us by glory and virtue…
2 Peter 1:3
Home

How It Works for Those who Want a Life In Missions...